ARandR: Another XRandR GUI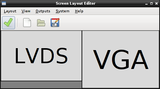 Screenshots at
screenshots.debian.net
ARandR is designed to provide a simple visual front end for XRandR. Relative monitor positions are shown graphically and can be changed in a drag-and-drop way.
Features
Full control over output positioning (instead of plain "left of") with edge snapping
Saving configurations as executable shell scripts (configurations can be loaded without using this program)
Configuration files can be edited to include additional payload (like xsetwacom commands tablet PC users need when rotating), which is preserved when editing
Metacity key binding integration:

Saved configurations can be bound to arbitrary keys via metacity's custom commands.
Several layouts can be bound to one key; they are cycled through. (Useful for "rotate" buttons on tablet PCs.)

Main widget separated from packaged application (to facilitate integration with existing solutions)
Ongoing development
An overhauled version of ARandR is in the works in the verbose and gtk3 branches found in the git repository. Feature parity with the current releases has not been reached, but some interesting features are already implemented:
Parsing of the complete --verbose output, including properties
Setting refresh rates
Switch to Python 3 and GTK 3
Auto-discovery of DISPLAY in remote contexts
Simulation and regression test infrastructure
Features targetted for the first release from the new branch:
Setting properties
Parsing EDID information
Similar projects
A number of other programs exist that cover similar functionality, often bundled with a particular desktop environment. Those I know of are, in alphabetical order:
Gnome's gnome-control-center display, notable for its ~/.config/monitors.xml persistence

grandr-applet (which seems not to be related to grandr)

KDE's RandR tool krandrtray, notable for being the only listed program to be Qt based

LXDE's LXRandR, notable for storing configuration in ~/.config/autostart/lxrandr-autostart

zarfy, notable for its nice use of a current screenshot

cglita wrote a patch that solved the ValueError / "1080p" problem. His patches went a little further and include more precise mode line selection; I keep it around, and you can try it like this:


git clone git://anonscm.debian.org/arandr/arandr.git -b cglita
cd arandr
./arandr

Contributing
If you are fluent with languages not yet supported, you can add translations to ARandR using gettext. An easy way to do this is ARandR's page on hosted Weblate. (Transifex and Launchpad translations were discontinued for lack of SCM integration and associated problems with attributing contributions).
If you want to contribute code, contact me directly or send bug reports, suggestions, patches and git pull requests to the bugtracker or the arandr-users mailing list.
If you want to support the project via flattr, you can flattr this.
About
Copyright © chrysn <chrysn@fsfe.org> 2008–2016, Себастьян Gli ţa Κατινα 2011, Johannes Holmberg <johannes@update.uu.se> 2015 published under GPLv3 or any later version.
Inspired by the dual head sketch in the ThinkWiki.
Translations by
Algimantas Margevičius, Mantas Kriaučiūnas (Lithuanian)
Alireza Savand, reza khan (Persian)
Bakr Al-Tamimi, Mohammad Alhargan, aboodilankaboot (Arabic)
Balázs Úr, Tamás Nagy (Hungarian)
Belvar (Breton)
Bruno_Patri, Clément Démoulins, Tuux (French)
Carezero, ChuChangMing (Chinese (China))
Denis Jukni (Albanian)
Dimitris Giouroukis, Efstathios Iosifidis (Greek)
Fred Maranhão, Guilherme Souza Silva, Phantom X (Portuguese (Brazil))
HsH, Ivan Vantu5z, Vladimir (Russian)
Igor, Olexandr Nesterenko, Rax Garfield (Ukrainian)
Ingemar Karlsson (Swedish)
Joe Hansen, Sebastian Wahl (Danish)
Kristjan Räts (Estonian)
Lu Ca (Portuguese (Brazil), Sardinian)
Luca Vetturi, Quizzlo (Italian)
Luis García Sevillano, Ricardo A. Hermosilla Carrillo (Spanish)
Mehmet Gülmen (Turkish)
Michal Čihař (Czech)
Miguel Anxo Bouzada (Galician, Spanish)
ParkJS, cho bkwon, pCsOrI (Korean (Korea, Republic of))
Piotr Strebski, RooTer, agilob (Polish)
Semsudin Abdic (Bosnian)
Slavko (Slovak)
Slobodan Simić (Serbian)
chrysn (English, German)
el_libre, josep constanti (Catalan)
gundachandru (Kannada)
ikmaak, wimfeijen (Dutch)
o-157 (Japanese)
Себастьян Gli ţa Κατινα (Romanian)